BlackBerry Accuses Facebook and WhatsApp of Patent Infringement

BlackBerry Accuses Facebook and WhatsApp of Patent Infringement
Text communication quickly became one of the most popular features on smartphones. BlackBerry was one of the first companies to really put an emphasis on messaging. BBM was the original messaging app that locked people into an ecosystem. Nowadays, you don't need a phone from a specific manufacturer to send messages. There are hundreds of messaging apps to choose from and BlackBerry is not happy about a few of them.
The Canadian smartphone company has allegedly been trying to hold discussions with Facebook for "several years." Today, they finally decided to move on and file a lawsuit over patent infringement. The company is accusing Facebook of co-opting parts of their mobile messaging technology. They're seeking an injunction that could shut down Facebook Messenger along with WhatsApp and Instagram.
It should be noted that this is not the same BlackBerry that currently makes phones. TCL owns the rights to sell BlackBerry-branded devices. This is the company formerly known as Research in Motion. They claim Facebook has infringed upon their intellectual property by "using a number of the innovative security, user interface, and functionality enhancing features that made BlackBerry's products such a critical and commercial success in the first place."
BlackBerry is claiming some very general elements, such as timestamps, unread message counts, tagging people in photos, and notification dots. They also claim their patents cover the mixing of mobile gaming and messaging. Just look at all the annotations on this very generic looking message.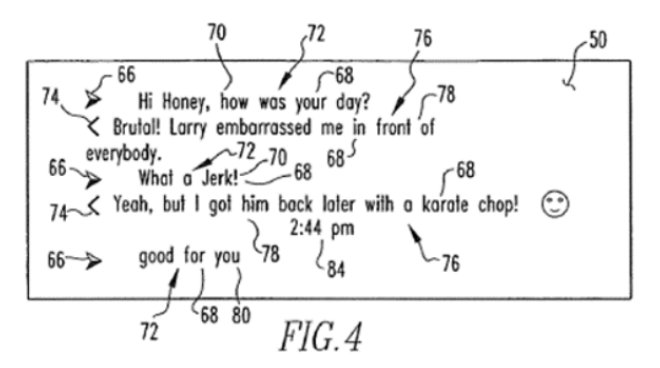 Facebook's Deputy General Counsel, Paul Grewal, responded with a statement: "Blackberry's suit sadly reflects the current state of its messaging business. Having abandoned its efforts to innovate, Blackberry is now looking to tax the innovation of others. We intend to fight." BlackBerry hopes to resolve the issue with injunctive relief or monetary compensation, but it doesn't sound like Facebook is ready to back down anytime soon.