Google Assistant can now speak in Hindi on Android 6.0

Google Assistant can now speak in Hindi on Android 6.0+
Google Assistant was launched as the successor of Google Now and Voice Search back in 2016. At first, it was exclusive to the Google Pixel phones, but after a few months, Google launched it for all Android 6.0+devices running English. Recently, Google stated that Assistant would gain the ability to speak in 30 more languages by 2019.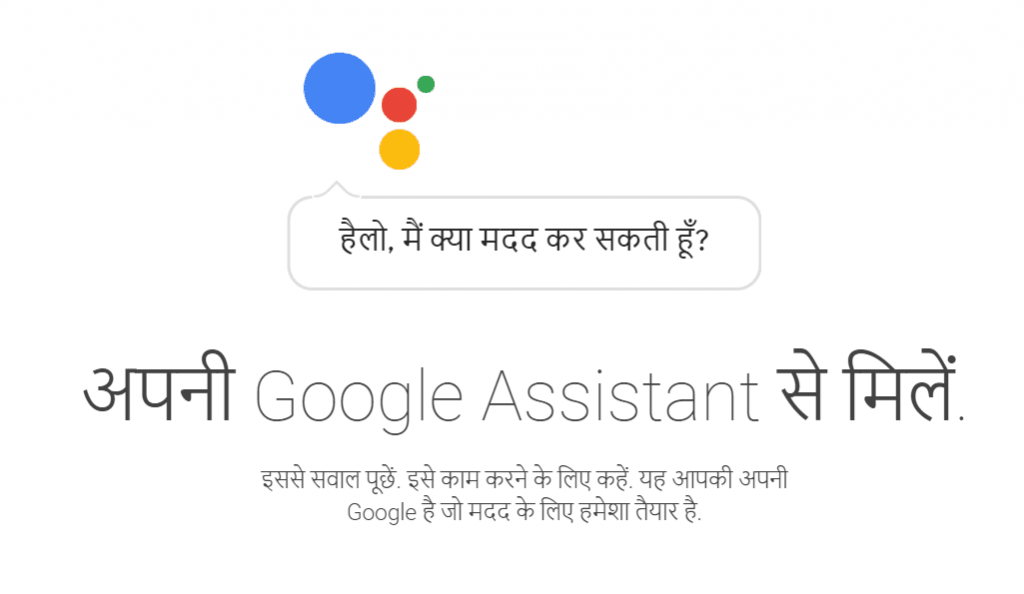 Up until now, though, the Google Assistant could not speak in Hindi. Last year, Google did launch the Assistant in Hindi for Allo, brought the English Assistant to more phones, and launched a special English + Hindi version for the Jio Phone as well. Now, the company has started rolling out the Assistant in Hindi to Android 6.0+ phones (Marshmallow and above), and it will soon come to Android 5.0 Lollipop and iPhone devices.
Hindi is the most widely spoken language in India, so Assistant not being able to speak the language was a major omission. Users can now use the Assistant in Hindi to help them with things like directions, setting alarms, asking the weather, and more. To try it out, users can touch and hold the home button on their Android device or say "Ok Google" on eligible smartphones. It will be useful for hands-free situations when users can use it to send text messages, set reminders, or get directions.
Google states that the Assistant is a product powered by machine learning. It's built on two decades of the company's experience in Google Search, as well as natural language understanding, computer vision, and understanding user context. It's the reason why Assistant can understand the intent behind words, which lets it handle follow-up questions and even multi-step devices. It's also said to get better over time by learning users' preferences, likes, and dislikes. It's worth noting, though, that things like natural language understanding and understanding user context are bound to have room for improvement.
The Google Assistant in Hindi is said to be "truly Indian", as it understands the Indian context, from biryani recipes to finding directions to the latest ATM. Google states that developers and businesses can now build Actions for the Hindi Assistant through the developer platform Actions on Google to make the experience better for Indians. After an action has been built, users can say "Ok Google, talk to…" in order to access the service or content through Assistant.
Google has provided some examples of questions which Hindi users can use to ask Assistant:
"Dadar tak pahunchne mein kitna samay lagega?" (Translation: "How much time will it take to reach to Dadar?")
"Kal subah mujhe saat baje jagaao" (Translation: "Wake me up at 7 AM tomorrow")
"Selfie kheencho" (Translation: "Take a selfie")
"Daddy ko SMS bhejo '5 minutes mein pahunchenge'" (Translation: Send SMS to Daddy "We will be reaching in 5 minutes")
Users can go to this site to get an overview of all Actions already available for the Hindi Assistant. The Assistant in Hindi is now available on Android phones 6.0+ (Marshmallow and above). It will soon be available on Android 5.0+ Lollipop, Android Oreo (Go edition), and iPhones (iOS 9.1 and above). In order to use the Hindi Assistant, users will need to set their device language to Hindi and update their Google Search app to the latest version.