Google in India: How the Company is Pushing its Services in Emerging Markets

Google in India: How the Company is Pushing its Services in Emerging Markets
Every company wants a slice of the rapidly growing Indian market, but few create services that actually work well at the local level. It's tough to blame them for not localizing their products since most have little financial incentive to do so while the market is still growing. Thus, the full potential of markets like India has yet to be realized by these companies. Google, however, is starting to get it.
Google is at the forefront of a wave of multinational companies beginning to realize the importance of localization in markets like India. It's the key, some analysts argue, to capturing the true potential the country has to offer.
In this article, I will detail some of the initiatives Google has taken to make inroads into India. I will also highlight how Google's product rollouts in India might serve as a roadmap for other foreign companies in the emerging world.
Connectivity Efforts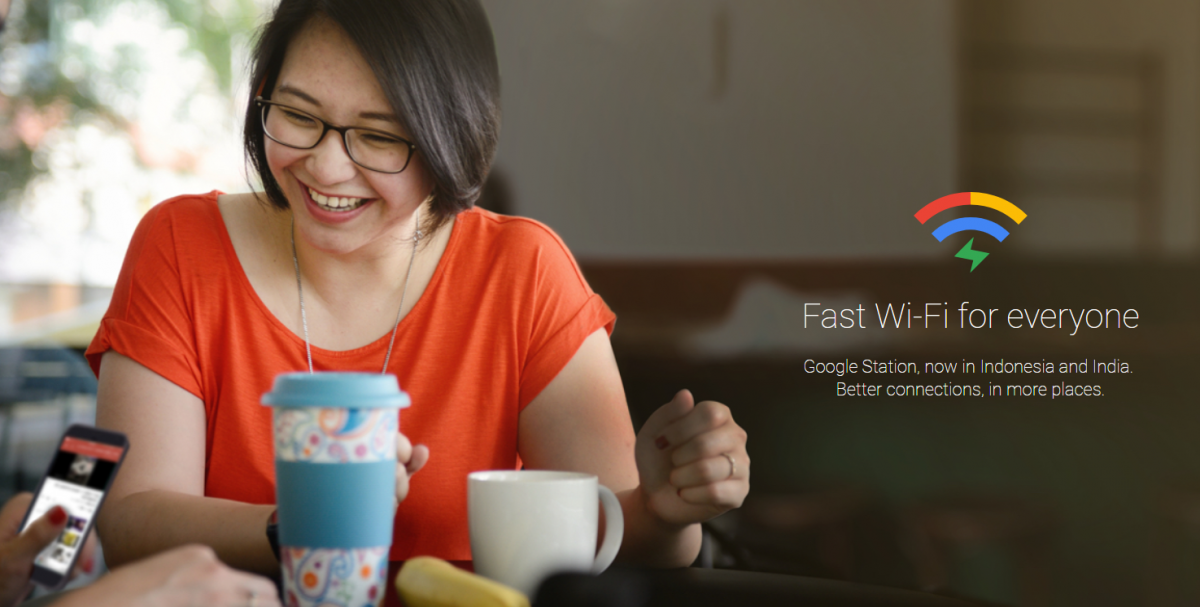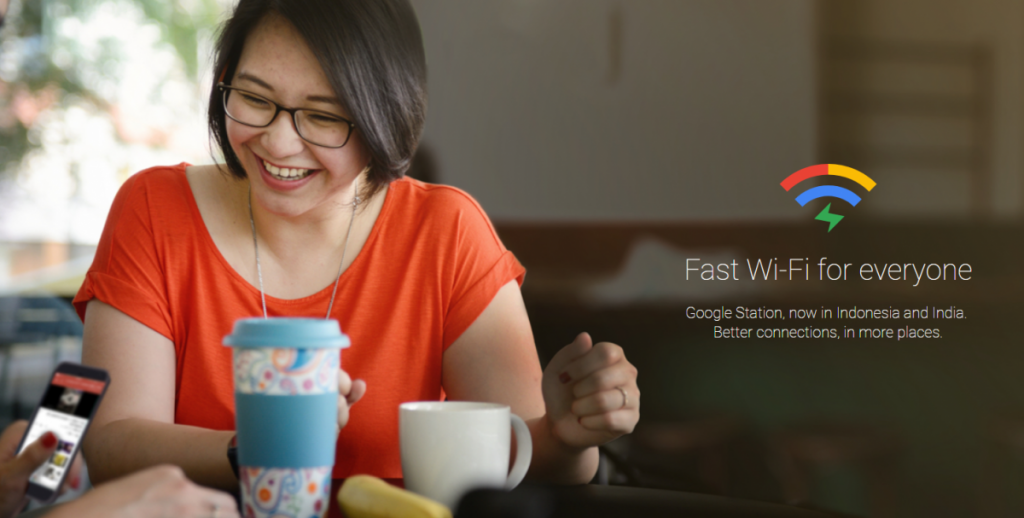 Although the country has an enormous number of potential smartphone users, getting them connected to the Internet remains a challenge. The country ranks 14th in the world in terms of LTE availability according to analyst firm Open Signal. Every country above India in this list has a far higher GDP per capita and a far smaller geographic landmass. The problem? It's pricing.
Even though the price per Gigabye of data has fallen rapidly, the price of data packs still remains the same. A data pack valid for 28 days would cost ₹149 ($2.34) three years ago but costs ₹149 ($2.34) even now. Facebook tried to address the entry-level data market with its Free Basics program, but it was quickly rolled back in India as a result of the Telecom Regulatory Authority of India's (TRAI) stringent net neutrality rules.
Google's answer is Google Station, a partnership with Indian Railways to provide Wi-Fi for free in train stations. It has been a tremendous success and has seen a massive uptake among users. As many as two million peoplewere accessing free Wi-Fi on Google Station in 2016. Inspired by the program's success, Google plans on bringing it to Indonesia.
With Google Station, Google has been able to beta test how to deliver internet connectivity in a cost-effective manner. It's the perfect test bed for monetization strategies in emerging countries. By virtue of being restricted to stations and a few select smart cities, Google Station is the perfect prototype for an expanded service down the line.
Google has said time and again that it wants to make Google Station self-sustaining. Just recently, the company started offering a paid version of Google Station in India.
Google Station's potential isn't just terrestrial, however. If the company is able to work out a monetization strategy, it could give it a lead on infrastructural projects that aren't constricted by coverage area. Project Loon, for those unaware, is Google's effort to beam Internet connectivity to ground-level antennas using hot air balloons. It has made quite a lot of progress over the past few years. If Project Loon was ever rolled out on a long-term commercial basis, it likely would have a vastly different cost structure than Google Station. Still, there are broadly applicable insights to be derived from Google Station such as the willingness of people in emerging countries to pay for data and how many ads they're willing to put up with.
Hardware Efforts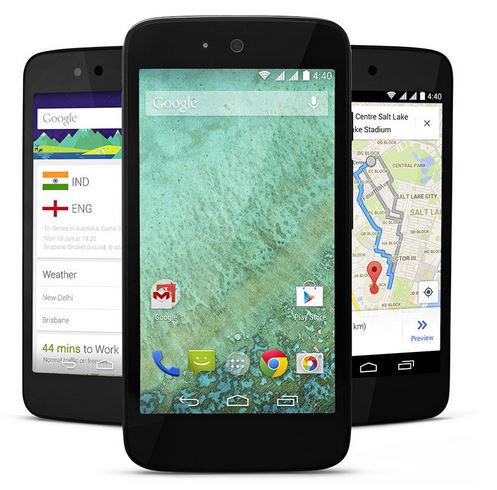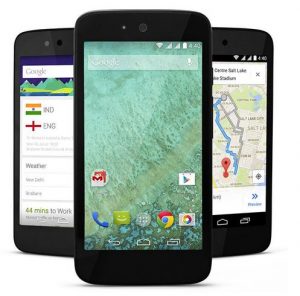 Connectivity alone isn't enough. A lot of people in emerging countries wouldn't have a computing platform if it wasn't for Android.
Arguably, no computing platform has reached as many people as the smartphone. However, the vast amount of hardware and software fragmentation in the Android ecosystem in India has led to the popularization of low-end Android devices with sub-par experiences.
Google's first attempt at improving the low-end smartphone experience was Android One. Android One aims to reduce fragmentation in terms of both hardware and software within the budget phone market. Under the initiative, Google partners with smartphone manufacturers and mandates baseline hardware specifications. Furthermore, it requires that the phones run near-stock Android and that the device maker provide regular updates. Although the program was well-intentioned, it failed to take off for a variety of reasons.
Most smartphone manufacturers were especially uncomfortable with the fact that they had to follow hardware specifications laid down by Google. In effect, it reduced the role of smartphone manufacturers to commodity producers, churning out identical smartphones that had to compete with each other in a market with razor-thin margins.
Despite the failure of the Android One project, in some ways, it tested the waters for a heavy-handed approach toward solving the fragmentation problem. I believe Google no longer wants to dictate which hardware specifications smartphone manufacturers need to adhere to, nor do they want smartphone manufacturers to necessarily stick to stock Android.
That's where Android Go comes in.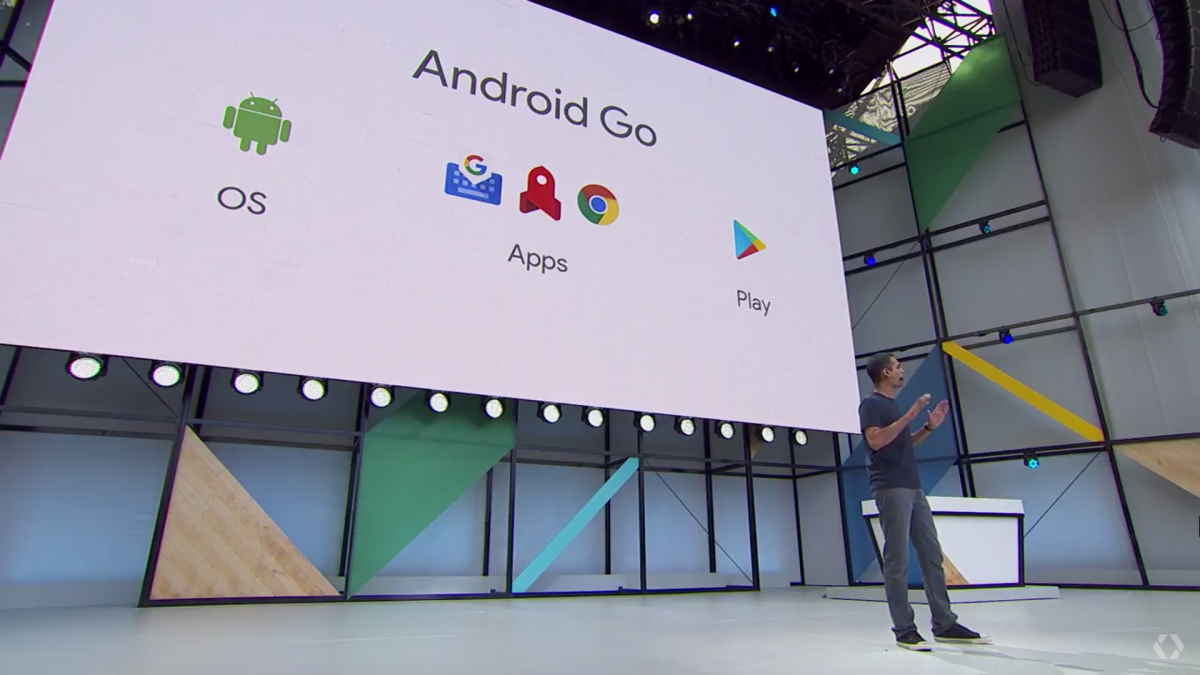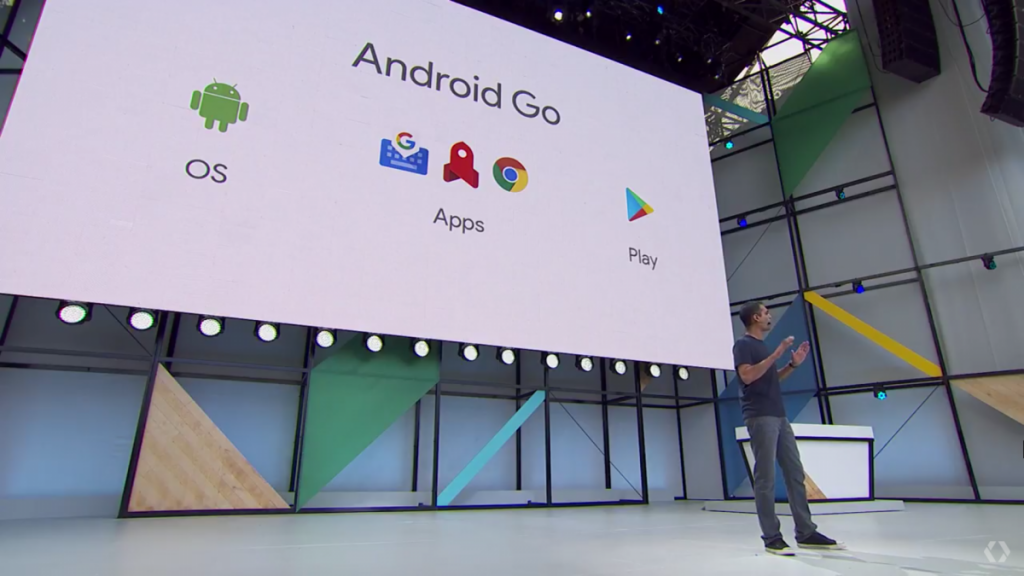 Android Go, which was announced last year, is in some ways an evolution of Android One. It's a special version of Android 8.1 Oreo with tweaks and pre-loaded apps optimized for low-end Android devices. Android Go is made to run on devices with less than 1GB of RAM. Manufacturers are free to pre-load devices with it and customize it (Micromax is one of the first manufacturers in India to ship an Android Go device). By doing away with some of the most onerous requirements of the Android One program, Android Go has a very real chance of succeeding.
Software Efforts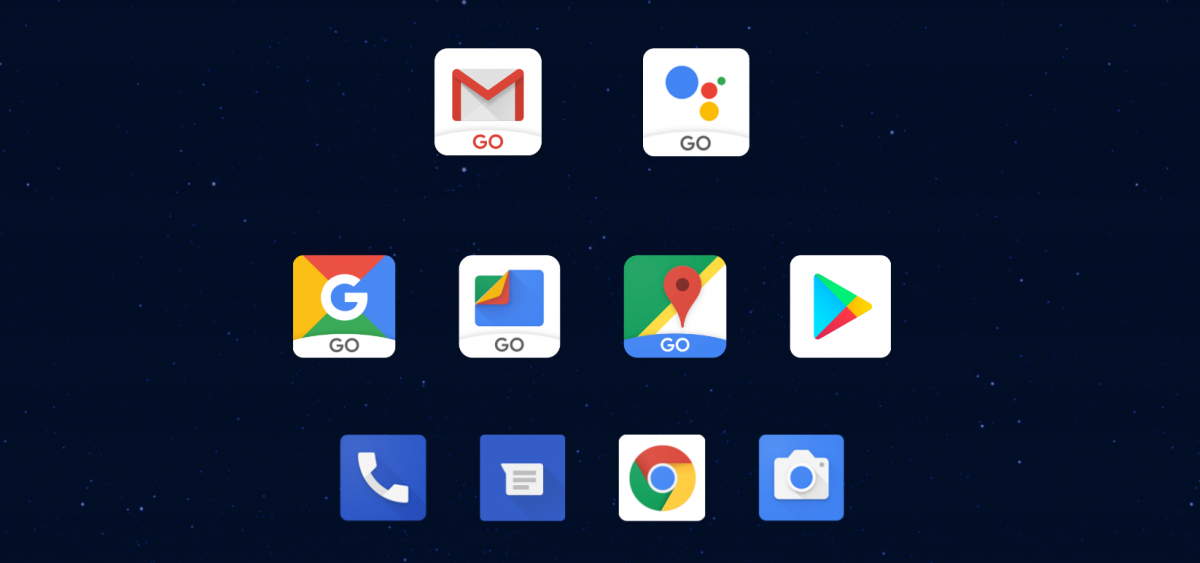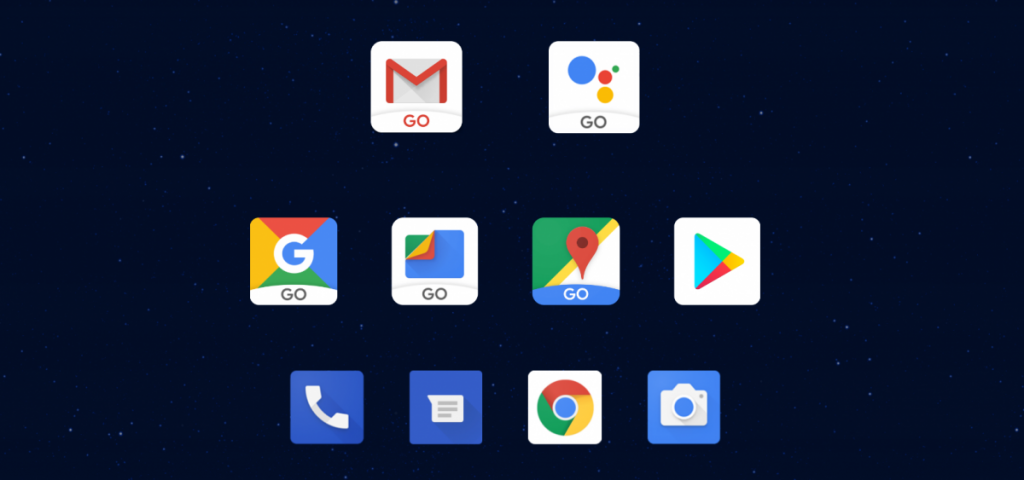 Google is also working to build dedicated apps that work well on low-end devices.
First, there is Google's in-house selection of Go apps, which include YouTube Go, Files Go, and Maps Go, among others. They're designed for territories where connectivity is at a premium. YouTube Go, for example, downloads videos and streams them without any buffering—even when over a 2G connection. Files Go uses artificial intelligence to intelligently detect old images, videos, and other files and delete them to free up internal storage.
Google has also worked hard to ensure that app developers have the tools they need to create lightweight apps. One of these is Progressive Web Apps (PWAs). Progressive Web Apps are basically websites that act like apps, and Google has supported them in Chrome. Many Indian companies such as Flipkart and Ola have extremely well-designed Progressive Web Apps that can serve as meaningful replacements for their native equivalents.
The best part about Progressive Web Apps is that they are extremely efficient and take up a close-to-negligible amount of space. A lot of people in emerging countries such as India don't install apps because of the amount of space they consume. For example, the native Flipkart app consumes as much as 100 MB of internal memory, whereas the Progressive Web App consumes less than 512KB. The same is true of Ola's app.
Last but not the least, Google is making an effort to tackle the payments platform problem. The only way to foster growth in a vibrant and healthy ecosystem of third-party apps is ensuring developers have a viable source of income. Piracy is rampant in India, but even people willing to pay for apps are sometimes discouraged from doing so because of the exorbitant prices and the lack of easy payment methods. During its early years, the Play Store in India simply converted the dollar price of an international app into the Indian price.
This strategy was not quite successful because there's a huge gap in purchasing power parity between India and other countries. As a result, apps that cost just $1 or $2 are seen as expensive in India. This has changed in recent times as there are now many apps available from international developers for as little as ₹10 (~$0.16).
Google not only addressed price disparity but also the way in which people pay for apps. Initially, the Play Store offered support for debit cards and credit cards or net banking. Thanks to onerous two-factor authentication limits imposed on the debit cards, credit cards, and net banking transactions by India's banking regulator, the Reserve Bank of India (RBI), this discouraged impulse purchases, which was a blow to low-price apps.
To address this, Google has partnered with digital wallet apps so you can apply the balance in your digital wallet to get a Play Store code. You can add money to these wallets using a legacy payment method such as credit card, debit card, or net banking account. Once you get the code for a particular amount, that code can be redeemed at the Play Store and the money is added to your Google Play Store balance.
Moving beyond Android
Google is not putting all of its eggs in one basket. It's collaborating with Reliance Jio in India on the carrier's pseudo-smartphone, JioPhone. Jio is the largest feature phone manufacturer in the country, according to Counterpoint Research. The JioPhone runs on KaiOS, so it doesn't come with Google apps pre-loaded, but Google has gone ahead and ported the Google Assistant to the JioPhone and it wants to bring apps like YouTube, too.
Too little, too late?
Google has undertaken a lot of initiatives to gain a foothold in India and other emerging countries, but some companies might beat it to the punch. For example, Jio has launched a 1GB per day data plan for the JioPhone that starts at ₹50 ($0.79) for 28 days, which makes Google Station less attractive than it was before. With data speeds and allowances increasing with every passing day, apps like YouTube Go aren't as useful as they once were.
Despite all these concerns, the efforts undertaken by Google are commendable. Making an impact in the lives of people from the very start goes a long way into locking them to a particular ecosystem. This should definitely help Google over the long term as these people who come online for the very first time are bound to explore more of what the internet has to offer. In such a scenario, having already tasted Google services before, they are most likely to use a Google service or an app for a particular function over anything else.