How to open a Site when it is Blocked at your School or Workplace
How to open a Site when it is Blocked at your School or Workplace
In most of the Schools, Colleges, and at Workplaces, Social Media Websites are blocked. So today, We'll see multiple methods which can be used to visit that blocked websites without any problem.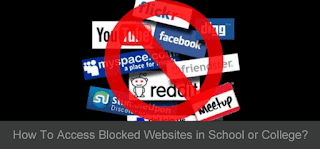 Using Ultra surf

By using UltraSurf, you can get access to any Blocked Sites. You just need to download it and start it before you start browsing. It also hides your IP address.
Using proxy websites
Just yo need to go to these sites and 
enter
 there the required web address then you will be
redirected
 to the required site.
sesjobs.com
autoshow15.tk
surf24h.com
textbookshop.org
zama4.com
student-shop.org
homework4.com
student4.org
classworx.org
learn-stuff.net
dab2.com
studentball.org
study4life.org
mathworx.org
studyshark.org
teachbee.org
syllabus6.com
k16energy.com
science9.com
collegex.net
vxschool.com
hairyschool.com
gomaths.com
gomaths.org
collegeace.org
tenasa.com
pozu.info
yuzone.biz
nassor.org
novawiz.org
maths2011.com
school88.net
faceproxbook.com
ajooo.com
faceboxy.com
fecollege.net
vecschool.org
unblockface.org
Using IP address of the site

Open CMD as administrator and now type tracert and then enter the site which is to be opened and press enter then you can find the IP address of the site and you can use that to get access.
Directly enter the IP address in your browser then you will able to access the site.